BBC Music Magazine, May 2021
The Singing Strad CD
Small but perfectly formed, The Singing Strad (Decca 485 1567) encapsulates two decades of recordings by Julian Lloyd Webber across three discs. Released to mark his 70th birthday, it represents the cellist at the top of his game before injury forced his retirement from public performance. What else would be at the heart of such a set than Elgar's Cello Concerto? His recording is surrounded by other great cello statements, including works by Saint-Saëns, Shostakovich, Tchaikovsky and Vaughan Williams. It all makes for a fine birthday celebration.
The Arts Desk
Julian Lloyd Webber: The Singing Strad (Decca)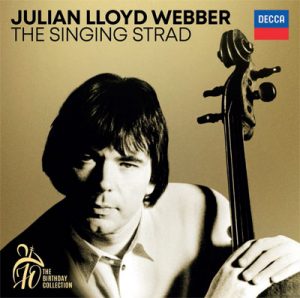 Cellist Julian Lloyd Webber's playing career was curtailed in 2014, a herniated disc in his neck causing a loss of strength in his right arm. He's been busy since then, heading the Royal Birmingham Conservatoire until 2020 and more recently a member of the advisory panel which recently produced the UK government's Model Music Curriculum. This set has been released to celebrate Lloyd Webber's 70th birthday, its three discs collecting recordings made for Philips in the 1980s and 90s. You might have dismissed him as a lightweight thanks to a series of bestselling crossover discs stuffed with miniatures, but there are some marvellous things here, the range of repertoire testament to Lloyd Webber's versatility. A 1986 recording of the Elgar concerto directed by Yehudi Menuhin is a treat, as much for Menuhin's sensitive conducting as for Lloyd Webber's pure-toned playing. And Holst's Invocation is a real find, the two works the weightiest items on a disc containing British music. The shorter items are enjoyable, notably an arrangement of the slow movement of Vaughan Williams' Tuba Concerto. The French disc opens with a convincing version of Saint-Saëns's A minor Concerto before a selection of shorter pieces, including "Le Cygne" and Fauré's affecting Élégie. Bizet's "Habanera as cello solo", with added guitar, is cheesy fun, other transcriptions including Debussy's Clair de lune and a snippet of Fauré's Dolly Suite. That the performances convince is as much to do with engineering as playing technique, Philips' producers securing a consistently credible balance between soloist and orchestra.
A selection of Russian music includes the original version of Tchaikovsky's Rococo Variations conducted by Maxim Shostakovich, and an excellent version of the Shostakovich Cello Sonata with Lloyd Webber partnered by composer and pianist John McCabe. They're superb in the ruminative "Largo", and the sonata's curt, throwaway ending is nicely done. Rimsky-Korsakov's Flight of the Bumblebee as cello solo? That's here too – fluff, but spectacular. A winning compilation, released at budget price.
Music Web International
Julian Lloyd Webber (cello)
The Singing Strad
A 70th Birthday Collection
rec. 1984-1999 various locations
Reviewed as downloaded from press preview
DECCA 4851567 [3 CDs – 211:11]
To commemorate Julian Lloyd Webber's 70th birthday, Decca have released this three CD set, chosen by the musician, of his favourite recordings. It is a timely reminder of what we lost when a herniated disc forced him into retirement in 2014.
The subtitle of this collection is no accident, as Lloyd Webber really does let his cello sing throughout.
If we were talking about a singer and not a cellist, one of the first things I would mention would be the naturalness of his breathing. Virtually everything on this set is played as though it were sung and Lloyd Webber's way of singing never displays a hint of breathlessness, even at high speed.
Lloyd Webber, alongside his considerable gifts as a cellist, clearly has a happy knack of curating his recordings. Here he conveniently presents us with three discs, respectively featuring the music of England, France and Russia. Each disc features a substantial concertante work alongside all manner of bon-bons.
For all that a lot of the music on these well filled CDs might be termed 'light', Lloyd Webber always treats them with the utmost respect. Even the Pie Jesu from his brother Andrew's Requiem, which I expected to be horribly mawkish, acquired a touching dignity in Julian's hands.
Not all of his choices seem to me in the best of taste. The arrangement of the Habanera from Carmen, replete with flamenco guitar and trumpets, transported me to a rather tacky restaurant entertainment. An impression not helped by Lloyd Webber singularly lacking the razzmatazz to pull off such a confection. But this willingness to take risks is part of what makes this set so enjoyable – you never know what's around the corner. So for the occasional Habanera, we get plenty of things like Debussy's Beau Soir, a delectable reading.
This elegant, natural way of playing is particularly well suited to the music on the French disc. Here his manner reflects the influence of his teacher Pierre Fournier. His virtuosity is worn lightly and is always put at the service of the music.
There is nothing especially Russian about Lloyd Webber's approach to the music on the Russian disc. His manner is restrained and classy rather than heart on sleeve. I found this a particularly winning way with the Tchaikovsky Rococo Variations, a work of which I am not generally overly fond. Again and again Lloyd Webber's restraint pays dividends and I was genuinely surprised how much emotional depth he found in the piece.
As a minor curiosity, the Ave Maria by Giulio Caccini included on the Russian disc turns out to be a fake/misattribution (depending on how charitable one is feeling) of a work by the 20th century Russian composer Vavilov who had a penchant for this sort of thing. Regardless of its provenance, Lloyd Webber proves yet again a convincing advocate. The orchestral arrangements, as here, are often a little soft centred but never less than effective and always unobtrusive.
The whole set ends on a more challenging note with a sparkling account of the Shostakovich cello sonata. The finale is scintillating. Much though I enjoyed the lighter fare on offer throughout this set, the success of this performance made me regret slightly that Lloyd Webber hadn't included some more challenging stuff like this. After all, he has been responsible for a significant number of commissions and premieres – an aspect of his career not reflected here.
The whole thing kicks off with what must surely be the finest recording Lloyd Webber ever made – his partnership with Yehudi Menuhin in the Elgar cello concerto. For me, this is one of only a very small handful of performances of this work that deserve to stand alongside Du Pré's famous account with Barbirolli. I would probably go so far as to say that I marginally prefer Lloyd Webber and Menuhin. Cellist and conductor are in absolute communion from first bar to last. Lloyd Webber, in his chatty notes, mentions Menuhin saying to him before they began the recording something Elgar had said on his deathbed: "play the first theme as though it were coming over the hills". This is the quality I hear stamped on every bar of this wonderful performance.
Whilst none of the rest of the music included on the English disc reaches the heights of the Elgar concerto, Lloyd Webber is a sensitive guide who clearly loves all the music he plays. I would recommend sampling his way with the Percy Grainger version of Brigg Fair (better known from the Delius orchestral work). Lloyd Webber has a very special way with a sotto voce and the last verse captures it perfectly.
I approached a three-CD box set of mostly lighter cello music with some fear of stomach ache from too much sugar but Lloyd Webber's immaculately tasteful way with everything here kept me from any such overload. I found myself asking whether, for all his fame and success, we have all, myself most definitely included, rather underestimated this superb cellist?
David McDade
MusicWeb International
Julian Lloyd Webber: The Singing Strad (Decca)
This Decca compilation of Philips' recordings, selling at a really good price gives us the opportunity to celebrate the career of one of Britain's eminent and possibly still under-appreciated cellists.
Full review on MusicWeb>>>
David R Dunsmore