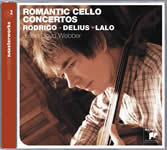 Musical Opinion April 2010
Romantic Cello Concertos CD
JULIAN LLOYD WEBBER: ROMANTIC CELLO CONCERTOS
Rodrigo: Concierto como un divertimento; Delius: Concerto for cello and orchestra+;
Lalo: Cello Concerto in D minor
Julian Lloyd Webber, cello; London Philharmonic Orchestra, Jesus Lopez-Cobos, conductor; +Philharmonia Orchestra, Vernon Handley, conductor
Sony Music 88697570022
1 hour 17 minutes
Romantic Cello Concertos CDThis welcome reissue contains three of the soloists best concerto performances, especially the Delius (which is inspired). The work that Rodrigo wrote for Lloyd Webber, with its arresting bolero opening and sustained melodic interest, was first heard in 1982; the Sunday Times verdict of sumptuously listenable-to' remains the most apt epithet The Lalo has always been a valuable contribution to the restricted cello repertoire with its appealing blend of strength and fancy all clothed in highly effective writing for the instrument, one wonders why it is not heard more. Both these concertos need a conductor who is thoroughly at home in the Spanish idiom and can bring his own flair to the proceedings (just as Pedro de Freitas Branco did in the case of the Lalo on the old Decca 78s with the legendary Suggia). López-Cobos is ideally cast here in support of his flamboyant soloist, and the extremely happy results carry to the listener.
The Cello Concerto was Delius's favourite among his three string concertos, admired not only by Percy Grainger and others in his immediate circle but (perhaps a little surprisingly) by Elgar, who said he yearned to conduct it. Delius's amanuensis Eric Fenby attributed its relative neglect to its difficulty and its rhapsodic form, though this particular recording has shown ever since its first incarnation on LP that the two essential requirements are a cellist and a conductor who thoroughly understand Delius's idiom and can get inside his sound-world: in other words, two Delians through and through. Lloyd Webber and Vernon Handley both on top form and in perfect harmony of understanding, fully meet these requirements in this finely- tuned conception: with the newly-remastered recording sounding better than ever, this performance maintains its position as first choice.
Lyndon Jenkins
Mail on Sunday January 10th, 2010
Romantic Cello Concertos CD
JULIAN LLOYD WEBBER: ROMANTIC CELLO CONCERTOS ****
If you like musical discoveries, Julian Lloyd Webber does a fine job with three easily overlooked cello concertos by Joaquin Rodrigo, Frederick Delius and Edouard Lalo. His generously filled 77-minute reissue of excellent recordings made in the Eighties is ideal for those who think romantic cello concertos begin and end with Elgar and Dvorak. Julian himself commissioned the Rodrigo from the then 80-year-old blind Spaniard, and although it's just a bit of froth, it's really charming, and will appeal to anyone who loves the same composer's celebrated Aranjuez concerto.
The Delius is a considerable work, written just four years after Elgar's concerto, and tirelessly espoused by Beatrice Harrison, who did so much to make the Elgar acceptable. Unlike the meticulously planned Elgar, it's rhapsodic and sprawling in typical Delius style, but treasurable too.
David Mellor
The Scotsman November 2009
Romantic Cello Concertos CD
JULIAN LLOYD WEBBER: ROMANTIC CELLO CONCERTOS ****
Romantic Cello Concertos CDJOAQUIN Rodrigo is perhaps best known for his popular Concerto de Aranjuez for guitar, but in the 1980s – when he was in his eighties – he wrote a concerto for cellist Julian Lloyd Webber that is every bit as exotic and tuneful. Accordingly, it fits well with the title of Lloyd Webber's latest disc, Romantic Cello Concertos, and sits easily with the lush and slithering chromaticism of Delius's concerto and the hot-blooded romanticism of Lalo's.
These are a repackaging of earlier separate releases by Lloyd Webber, and so feature different orchestras and conductors. With Vernon Handley and the Philharmonia, he digs deep into the passionate soul of the Delius. With Jesus Lopez-Cobos and the London Philharmonic, the Rodrigo is by far the more perfect and invigorating performance.
Yorkshire Post 13th November 2009
Romantic Cello Concertos CD
JULIAN LLOYD WEBBER: ROMANTIC CELLO CONCERTOS ****
Romantic Cello Concertos CDOne of the jewels among Delius recordings, Julian Lloyd Webber's loving, relaxed and extraordinarily beautiful account of the Cello Concerto creates a scene of autumnal reverie. It contrasts with a robust reading of the Lalo, with the London Philharmonic adding suitable weight. Rodrigo's 'Concierto como un divertimento' was composed for him, its demanding passages flying around the instrument's fingerboard, Lloyd Webber capturing its many changing moods with impressive playing. Good 1980's sound and a gift at this price.
David Denton